profiles - a light-hearted look at industry personalities
No. 53 in a continuing series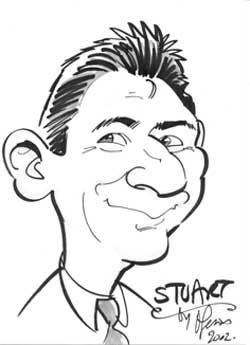 Caricatures by

Stewart Gibbons
Managing Director, Le Mark Group
A failed actor who always wanted to perform from a very young age, Stuart Gibbons first felt the warm glow from performing in front of an audience at the age of 11. During his first term at secondary school in Huntingdon trepidation turned into pleasure when he was 'auditioned' and won the part of Jim the runaway slave (he could do the voice) in Tom Sawyer. From then on he always wanted to do 'something' connected with performing and the stage.
At 15 he lied about his age and talent and chatted his way into a local re-forming rock band to be called Elder Kindred by telling them that he could sing! Everyone soon realised singing was not his forte but the band was desperate and had committed to an open-air gig in Cambridge. "It must have sounded appalling," confessed Stuart, "but I did give them a visual performance that included bashing my tambourine and leaping about the stage for an hour as a distraction to the vocals." It couldn't have quite that bad, however, as Stuart's period as a dysfunctional singer lasted for nearly two years, playing at colleges and AYA (American Youth Associations) at airbases around the county.
It all ended in tears, and in due course he was formally summoned into the family business by his elder brother to "straighten himself out" and get a proper job. This meant training in the art of flexographic printing onto self-adhesive materials. "My brother was right and I did need to learn a trade," says Stuart. "I enjoyed the creativity of print design and production and learned from some excellent industry professionals what could and could not be achieved with the decorative materials and substrates then available."
In 1983 Stuart with his then wife and business partner Linda Gibbons formed Le Mark Self-adhesives Ltd (named after their two young sons Lee and Mark). His marriage to Linda ended in 1992 although they remain business partners. One of the first customers the company started to work with was BBC Television in Wood Lane.
"The situation started us on an incredible learning curve - and a return to the Entertainment Industry," explains Stuart, "but this time as a supplier. During the early years of Le Mark, working with the BBC I really started to understand the true demands and pressures for our products to perform at high temperatures and extreme conditions. I could also see that many traditional industrial suppliers did not take the arts and entertainment sector as the serious business that it is."
In 1997 Le Mark had researched and would see developed their first truly innovative A & E industry driven product, when their high temperature matt black aluminium product BlackTak was launched. The same year it won a PLASA Award for Innovation .Two months latter Stuart's first US exclusive distributor, City Theatrical, would launch BlackTak under the guiding hand of good friend Gary Fails and see the product win the ESTA 'Widget' award at LDI in Orlando.
Stuart and the team at Le Mark have continued to listen to their customers and introduce what have become generic products for the industry - their latest invention, Gel-Tak Filter Fix, winning both Innovation and new Environmental Impact Awards at the 2002 PLASA Show in London.
Le Mark's self-adhesive decorative stage floor range StudioTak is to be seen regularly on T.V. screens on many programmes including, The National Lottery, Top of the Pops and currently Ant & Dec - reinforcing Le Mark's stature as premier consumable supplier. It allowed Stuart to meet and work with industry legend Joe Tawil, founder of The Great American Market. Le Mark now produce what is known in the USA as GAM Floor and this helped further expand the export base for Le Mark products world-wide.
Stuart's youngest son Mark has joined the company and looks after visual marketing and expanding their lighting accessory range. He lives with the embarrassment of having to announce himself as "Mark from Le Mark" at trade shows both at home and abroad.
Stuart married Krystyna Brzozowska in 1994 and since then she has also become an ambassador for the company, supporting Stuart when able at trade shows around the world. Krystyna has also contained any further attempts at Stuart becoming a middle aged 'rock star' and causing further embarrassment.
Does Stuart ever wish that he could have found a career acting on, rather then sticking things to a stage? "Oh yes!"
Look out for the next subject in our Profile series...
© 1999 - 2023 Entertainment Technology Press Limited News Stories