profiles - a light-hearted look at industry personalities
No. 58 in a continuing series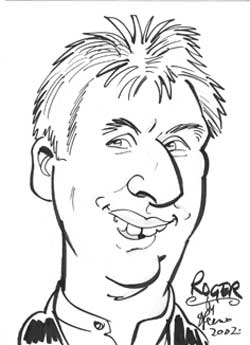 Caricatures by

Roger Barratt
Technical Director, Star Hire
As a teenager, Roger Barrett, founder and technical director of Star Hire, organised concerts with live bands at school before becoming a mobile DJ working the tough clubs in the Hull docklands. Spells of van driving for local bands, working in a fruit wholesalers (with Mick Ronson) and a 72-hour week as an ASM at the Hull Arts Centre (for the equivalent of £5.75 per week!) preceded his first proper touring job as sole roadie for Love Affair on a European tour. "Everything printed in the News of the World was true!" he says.
Several bands and tours later, in 1973 he was in the right place at the right time and got an introduction to Rikki Farr, who was in the process of launching Electrosound. Within six hours of the meeting, Roger was driving a truck full of equipment to Germany to commence a six-week tour with Eric Burdon. To this day Roger cannot listen to 'Ring of Fire' without hearing the soundcheck version, of which the chorus was 'my ring's on fire' - the rest was unprintable. After the tour the equipment went straight to the legendary concert at Alexandra Palace, shortly before the fire, where a number of acts had their first experience of what we now know as on-stage monitors, with a separate side-stage mix, although these were of limited success as graphic equalisers were yet to be invented.
Roger went on to become one of the first specialist monitor engineers, working with very demanding performers such as Roger Chapman (on Family's sold out Farewell Tour), Al Stewart, Miles Davis, Jackson Browne, Elkie Brooks, Split Enz, and Mink DeVille. Roger still rates Willy Deville as one of the best rock singers of all time.
Figuring that owning a few bits of equipment could be a useful additional income, Star Hire started almost by accident. Roger and his partner Maddy started the business in the same week that Maddy gave birth to their first child and their initial ambition was to have a whole Luton Transit full of equipment! Star Hire expanded rapidly throughout the late 70's and early 80's and both Roger and Maddy acknowledge the benefit of the close working relationship they had with Turbosound, then also a rental company.
A combination of available work and personal preferences led to Star Hire working on an increasing number of outdoor events and Roger was always fed-up with the dreadful stages built by local scaffold companies. Sitting in a pub after one particularly trying day at Notting Hill carnival, he claimed that he could do better and by the next year had started offering to build stages. "The phone just started ringing," he said. "The first thing was to do simple things like putting knee level rails under all the handrails (just having handrails was often an improvement) so that amp racks couldn't roll off."
In an incredibly macho culture, with everyone vying to build the biggest, strongest and heaviest roof, Roger and Maddy thought the future was in smaller stages that were economical, and this led directly to their patented StarStage mobile stage system, the first one appearing on the market in 1988. Since then mobile stage technology has revolutionised the events world, and it is somewhat ironic that Star Hire now has a reputation for having the biggest mobile and non-mobile stages, although Roger stresses that all the design philosophy centres around engineering efficiency, which translates into good economics.
Instead of moaning about bad stages, Roger has worked tirelessly for the last 15 years to get safety standards improved. He has played a major role in almost every events safety initiative across that time and now represents the PSA on a number of official committees. He is the Chairman of the Advisory Group On Temporary Structures, operated by the Institution of Structural Engineers. However, he thinks there is still a long way to go, and it saddens him that it might need a disaster to get things changed.
The last five years have seen Roger and Maddy increasingly involved in Star Rigging and they are delighted at the superb reputation that the operation has built up. Again Roger stresses the philosophy of setting the highest standards whilst having no place for the 'typical' macho attitudes so long associated with riggers. The number of good new riggers with a 'normal' attitude he considers really refreshing.
Roger figures his working life has witnessed a rough-and-ready way of life transformed into a major 'grown-up' international industry. And he wouldn't have swapped it for anything.
Look out for the next subject in our Profile series...
© 1999 - 2023 Entertainment Technology Press Limited News Stories