profiles - a light-hearted look at industry personalities
No. 15 in a continuing series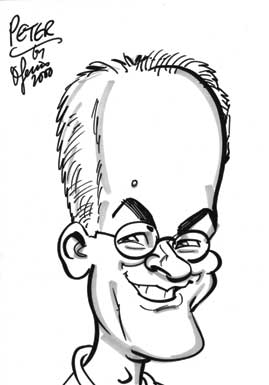 Caricatures by

Peter Hind
Structural Engineer
Peter Hind was always going to be an engineer. The signs were evident in his very early days when he spent hours constructing roads in the sandpit near his home in his native Lancashire. He was briefly side-tracked by the thought of going into computing instead of mainstream engineering, but this notion was soon put to one side as he progressed to Meccano and the birth of his first 'structures'.
At 18 he trekked south to the University of London where he spent three years at Kings College. The culture shock made quite an impact on him and he did not return north but opted to work for a firm of consulting engineers in London designing a variety of structures ranging from oil jetties to cement silos.
He designed his first major aluminium structure at the tender age of 26 - the roof for Genesis which was at the time the largest temporary demountable roof structure being used in the entertainment industry. This sparked the idea that it was possible to combine two of his main interests in life, those of music and structures, and it was at about this time that the first of his four daughters, Rebecca was born, followed the next year by his second, Catherine.
A few years later he was starting to grapple with the intricacies of Technik Lego and had become a partner in a firm of consulting engineers. He had still not grasped the correlation between cantilevers and children and Sophie and Megan came along in the following years much to his amazement and delight.
By now he was undertaking consultancy work for a number of the main players in the fledgling entertainment concert and touring industry and had met the 'Cronins' in a small smoke-filled office in a trading estate in Pershore.
The ravages of the bad debts incurred as a result of the BCCI collapse took their toll on his personal and business life and it was in a hotel bar in Korea that Chris Cronin floated the idea of Peter joining Total Fabrications on a full time basis to develop the special projects side of their business. The prospect of travelling round the world doing what he enjoyed and actually being paid for it quite appealed to Peter and some five years ago he travelled back up the M6 from London, but halting his journey in Birmingham and diving headlong into the activities at TotalFabs.
Since then he has made numerous friends in the industry though he was described by an eminent journalist as being "unashamedly outspoken" and having "enough letters after his name to confuse any Scrabble champion". He believes passionately in his work and is never one for resting on his laurels.
In the last few years he has lectured in places as diverse as Singapore and Shanghai, has written numerous articles for Protocol (the magazine of ESTA), made significant contributions to both American and British Standards on structures for the entertainment industry, been elected to Council of the Institution of Structural Engineers and after much encouragement from his wife Pauline, Peter has completed his book Aluminium Structures in the Entertainment Industry which is published by Entertainment Technology Press and available through the Books section of this website. It will be launched to the world at large at PLASA next month.
Look out for the next subject in our Profile series...
© 1999 - 2023 Entertainment Technology Press Limited News Stories