profiles - a light-hearted look at industry personalities
No. 34 in a continuing series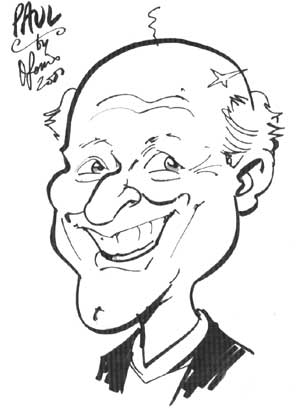 Caricatures by

Paul Hartley
General Manager, TMB London
It's been over 31 years since Paul Hartley began his eventful foray into the entertainment industry - and he has absolutely no regrets!
It started it Moorside School in Stafford. He'd had a passion for music, and was buddies with an aspiring young musician called Gavin Sutherland. Both left school at 16, and Sutherland formed and played in various bands, one of which -The New Generation - Paul joined as the drummer.
The young Hartley's musical career was unceremoniously curtailed when he was fired after a series of rhythmic inconsistencies! Slightly rebutted from this first rock n roll experience, he turned his many practical and technical talents instead to a local paper, The Cheadle and Tean Times, where he became a staff photographer. He regularly practised his paparazzi tactics at village fetes and the Rotary Club and Pigeon Fanciers dinner dances, but the pace was too much! Longing for a less stressful career, Paul baled out of this and straight into being a roadie (as they were called then), a personal and a 'referee' for Gavin Sutherland's latest musical encounter - a duo with his brother Iain named 'The Sutherland Brothers. This was as back in the heady - and original - Summer of Love' clays of 1969, life was great fun. They arrived at the gig in a 2 litre Rover with a set of bongos and a Vox AC3O amplifier an hour before show-time and would utilise whatever house PA and lights happened to he there - if any!
The Sutherland Brothers soon realised they needed some musicians onboard, and teamed up with a hand front London called Quiver, who were looking for two vocalist/front men, and so... The Sutherland Brothers & Quiver (SBQ) were born.
SBQ shared offices in the Great West Road with Hawkwind and Motorhead. By this time, Paul had moved to London and was driving a 3 tonne truck which was full of band gear. In one of those defining moments of history, he met Colin Waters - now head of TMB - who was then Quiver's roadie and sound engineer. Colin and Paul subsequently enjoyed many tours and adventures together and became firm friends.
For legal reasons - Paul can't divulge the many hell raising stories and anecdotes about the partying and hedonism that characterised the period - but he's sure everyone can imagine!
Eventually, seeking a quieter lifestyle. SBQ changed management and moved in with Thin Lizzy's office - which didn't turn out to be quite as tranquil as was initially envisioned! SBQ signed to Island Records and moved the office to Basing Street in W1, which gave Paul the chance to tour with a bunch of other chart topping Island acts of the moment, including Cat Stevens, Traffic and Fairport Convention.
1973 was a seminal year. It saw PauI's first US tour with SBQ - a support slot on the 40 city Elton John Yellow Brick Road tour. Many funny stores emanate from this tour. Possibly the most memorable was Paul's employment as the fourth leg of a Fender Rhodes piano for a surprise guest appearance by Stevie Wonder! It was indeed a surprise for Paul!
A buzz of anticipation built as news spread around the venue of Wonder's presence backstage -would he or wouldn't he? And when he did finally appear, duetting with Elton in the encore - the backline crew had a manic 30 second scramble to get the Rhodes erected mid positioned. The fourth leg's thread sheared in the ensuing rush to screw it in, gaffer tape proved a waste of time, but PauI was the hero of the day, steaming in and wedging himself beneath the piano for two songs, keeping it upright!
After many happy years on the road, Paul decided it was time to putt his personal life first and 'settle down' a little. He came off the road and went into merchandising, specialising in tour T-Shirts, and starting several retail outlets in Kent and the South East of England, trading as The Tops.
In 1998. he joined forces again with his old acquaintance Colin Waters, now at TMB. This has resurrected many great touring memories, specially as he now deals with virtually all the rental companies, regularly travels around the world on the international trade show circuit, and is still doing hotels, airports and gigs!
Paul comments on how the nature of touring and staging events and shows has changed dramatically since those wild pioneering days, turning into the massive, slick logistical exercises of today. He's very proud to have been a part of founding the modern production industry.
He now heads up TMB's busy UK operation in Brentford and lives in Maidstone with his wife Rose - who is still running The Tops, supplying many of the UK's leading rental companies with tour swag - and three teenage children, none of whom have any ambitions to go into rock n roll!
Look out for the next subject in our Profile series...
© 1999 - 2023 Entertainment Technology Press Limited News Stories