profiles - a light-hearted look at industry personalities
No. 25 in a continuing series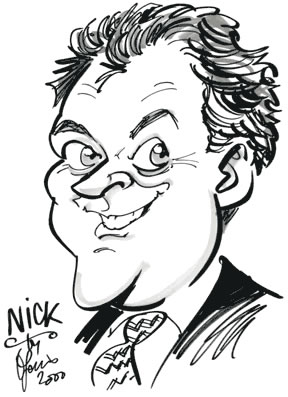 Caricatures by

Nick Mobsby
Projects Director and Author
Nick Mobsby has been a 'drop out' all his life, from the day his mother dropped him out of his cot and broke his nose. There was no looking back. Having failed to pass his 11 plus his father fought hard with Surrey Education Authority to find a school willing to take him. However, within a year he was on stage pretending to sing folk songs. Listening to his headmaster's pleas to find an alternative ambition led Nick towards the metalwork department - which at this school meant stage lighting!
From the age of 12, lighting became a far too important part of Nick's life with three productions a year produced on 2 Strand Junior 8 resistance boards, 4 Patt 23's, 6 Patt 123's and a couple of battens. In his fifth form school report there was one word from his French teacher - 'Disaster!' - and in due course he was asked to drop out. Things did not improve much during the sixth form, which saw him leave with only one A level - in physics - and this meant he had to drop out of going to a proper university! Fortunately, he was recommended to try Plymouth Polytechnic whose Electronic Engineering course offered a specialisation in TV Engineering and the outcome was a degree in Electrical and Electronic Engineering.
Many know the difficulties of surviving on a grant, and where finding enough money for beer is very difficult let alone buying text books. This situation led Nick to drop out of stage lighting for a while and leap into the world of the mobile disco, and the Nicky Nelson Roadshow plagued the residents of Plymouth and surrounding areas for four years. With too few takers for his roadshow Nick then pleaded with John Ball and Alan Payne for a job at Hi Fi Lighting Ltd. They had won the contract to deliver the underfloor lighting system for Jesus Christ Superstar at the Palace Theatre in London's West End. When Alan Payne said 'yes', little did Nick know that the original designer had decided enough was enough, and left him to build the fluorescent dimmers and then spend the summer nights of 1972 installing them.
Nick then went off to form Cosby Controls with his partner Derek Coe, and the remainder of the 1970's saw him supplying and installing lighting equipment in theatres and TV studios in the UK during the day and driving around the south east at night dressed up as Nicky Nelson. Finally, when the disco gear no longer fitted, he dropped out of the mobile scene for ever.
In 1980 Eurolight became the new name, and coupled with a small rental stock this enabled Nick to pretend he was a lighting designer. His first claim to fame was to launch the all new Vauxhall Astra and Royale to unwitting Britain in 1980, leading to a questionable passion for Vauxhall cars ever since!
The 1980's saw him travelling the world lighting theatrical and TV events featuring such stars as Gene Kelley, a Toshiba Microwave Oven, Ester Williams, Comfort Fabric Conditioner, Michael Parkinson, a Vauxhall Cavalier, Gottex Swimwear and much more. Working in 'well designed and equipped' theatres and studios he thought that his limited lighting design abilities could be better directed towards designing and equipping these buildings.
So he dropped out of lighting design and has been counting his Air Miles travelling the world designing and project managing new installations ranging from a chicken farm in Saudi Arabia, a large garden for the Sultan of Brunei, animated dinosaurs, wax models and an Opera House - along with just a few theatres and TV studios en route.
Nick is currently projects director for LSI Projects where he manages a team of dedicated professionals who clearly know much more than him. As they never listen to him he decided to find an alternative audience, completing his first short form guide Lighting Systems for TV Studios in 2001. Like most of his proposals this one over-ran the suggested page count, being ultimately described by John Offord as a weighty tomb! As this has so far failed to become a best-seller and reach a world audience he still feels compelled to write the odd article for this magazine.
Look out for the next subject in our Profile series...
© 1999 - 2023 Entertainment Technology Press Limited News Stories