profiles - a light-hearted look at industry personalities
No. 38 in a continuing series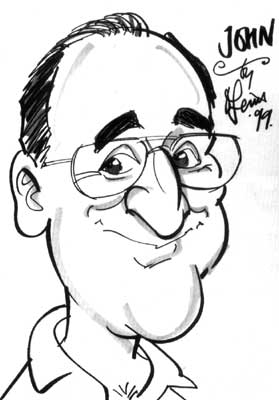 Caricatures by

John Offord
Editor, etnow.com and Entertainment Technology
The only reason the editor of Entertainment Technology is making an appearance on this page is that through bad planning, and lack of persuasive powers, he hasn't been able to match up suitable copy with his stock of industry caricatures. And as you will note, his David Lewis image is a touch out of date. But as with all authors worth their salt who've got to drum up some copy, he'll probably grab the opportunity to promote his latest book.
He was born in London in the middle of the War, and his family moved to the playing fields of deepest Essex to get away from the falling debris. Here he played invented games with his childhood gang such as 'last one across the line' - before the steam train thundered through, climbing railway bridges, scrumping and kicking the hell out of a leather football case packed tight with newspaper.
Meanwhile, family duties meant he had to learn to compose - from a typecase - to help along his father's one-man printing business. By the age of ten he was also adept at treddling a printing machine and operating a guillotine, and, one way or another he's had inky fingers and damaged hands ever since.
Moving to Sussex at the age of 12 he extended his skills, showing promise at the piano (Eastbourne's answer to Russ Conway was how he was billed at the Conservative Party socials) and at football where his only appearance on Wembley's sacred turf was as a ball boy at the Amateur Cup Final in 1958.
Jumping ahead into real life, he had a party of a time with impresario Charles Vance when they collaborated to publish the first British Theatre Directory in 1972. Considering this sort of work much more interesting than printing labels for Birds Eye Foods he soon went solo and many more publications followed, all within the entertainment and arts management field, some touching the lighting and sound sector, and with the choice of Rank Strand, CCT and the emerging Zero 88 and Pulsar as almost the only potential advertisers. Complementary conference and exhibition promotion included the popular Entertainment events at Harrogate in the early eighties.
In 1985 he launched Lighting+Sound International magazine which came within PLASA's orbit in 1987. He considers he was privileged to be involved with the development of Association and the huge growth of the entertainment technology industry across the period. He continued as editor of L+SI through to 1997 and was also the Association's chief executive from 1990 to the same date.
In January 1999 he established the etnow.com website which links to this magazine. The book bug soon returned, and Entertainment Technology Press (in partnership with Ken Sewell) already has 16 print-on-demand titles under its belt, with dozens more to follow.
He now spends most of his time in Normandy sitting at a computer but commandeering the odd hour to get some fresh air and bump around the garden on his little red tractor.
And here comes the plug. John's Offord's Lighting for Romeo and Juliet will be available on the ETP stand at PLASA. It tells the story of Patrick Woodroffe's lighting for Gounod's opera at the Vienna State Opera House: no sets, no balcony - just lights. An excellent read, it's a snip at just £24.95 - and there's stacks of colour.
Look out for the next subject in our Profile series...
© 1999 - 2023 Entertainment Technology Press Limited News Stories