profiles - a light-hearted look at industry personalities
No. 102 in a continuing series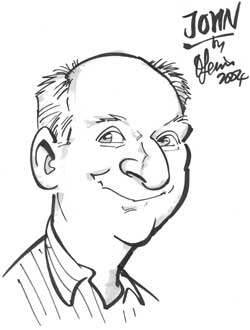 Caricatures by

John Coppen
Director, Cirro Lite Europe
After studying textiles, point of sale, economics and accounts at Ipswich Civic College, John Coppen decided to ignore the advice of his tutors and parents to study for an economics degree and instead chose to travel around Europe until his money and luck ran out. Two years later, and a little wiser, he returned.
In 1973 he found a job working for Brutus jeans and got a flat in London. Next he decided to try the music industry, and won a job at Virgin's Caroline Records. When Virgin decided to expand their clothing venture "Virgin Rags" to all their shops, John was drafted in to assist in the opening and running of this new venture. However, as suddenly as the idea was conceived it was cancelled and he went back to Caroline.
Meanwhile, his brother Martin had been thrown out of art college, and when he went back to collect his artwork he spotted an ad on the notice board for a lighting stagehand at the famous Rainbow Theatre. He duly got the job and started work on fibre glass stage sets for the band Yes. "The lighting system at the Rainbow was all Par 64 lamps, unheard of in 1974," explains John, "with road-boxed 30 way dimmers and 3 preset 60 way desk with 60x20 matrix and chase sequences. They were all designed and built by Richard Hartman from America.
"With on average three shows a week, some came with a touring lighting system and designer and need to be rigged. Other acts would use the in-house designer team of Anne Pocock and Dick Parkinson and shows were designed and performed in a day. On other occasions bands would augment their system with the Rainbow's own. This was a fantastic learning experience for Martin and I was often to be found back stage socialising or catching bands for free."
However, The Rainbow suffered from under funding and poor management, despite great idealistic endeavour, and Dick Parkinson, Anne Pocock and Micky Martin decided to form Rainbow Productions, a touring rock and roll lighting company, to service the venue. In addition, Richard Hartman formed a manufacturing and sub hire company called TTR (Theatre Technical Research) and designed and made all the equipment for the new company.
They soon landed contracts with David Essex, Slade, Rick Wakeman and the Sensational Alex Harvey Band. They also worked closely with Yes and Pink Floyd who had their own lighting systems, selling and cross renting equipment to them.
When The Rainbow stuttered to its inevitable demise, Dick, Anne and Micky moved their operation to a warehouse in Bethnal Green, and when Micky Martin left just as Dick and Anne were due to leave for a Rick Wakeman tour of Australia, he suggested John could run the company while they were away.
"In reality the interview was a non-event," explains John. "I just slotted in and started and learnt the industry on the hoof in three weeks. That was it, sink or swim. They had tours booked for Bowie and Bad Company and an assortment of other productions. As the touring industry was in its infancy just about everyone was making the rules up as they went along. Luckily Rainbow had Richard Hartman designing aluminium truss and one-ton towers coupled with a wealth of experience from the USA."
Rainbow Productions went from strength to strength, and in 1977 they formed a partnership to supply all the lighting equipment for the European side for Showco of Dallas. This lit the blue touch paper and meant that Rainbow were supplying lighting for a majority of the major bands at the time including Led Zeppelin, Genesis, Wings, Kinks, David Bowie, James Taylor, The Osmonds, ZZ Top, Fletwood Mac and all. They also had their own acts such as Bryan Ferry, Roxy Music, Davis Essex, Slade, Bebop Deluxe and Joan Armatrading. In addition, they manufactured stage sets and special lighting effects.
However, the failure of Rainbow to modernise brought its problems and eventually. The equipment and operation was sold to Richard Hartman. John then teamed up with Richard at TTR and they proceeded to modernise the equipment, and moved the base to Edwin Shirley's yard in West Ham. They forged ahead building stage sets and welded aluminium folding truss and dense packed Par 64 meat racks, enabling them to pack lighting equipment in smaller trucks and sea and air freight containers.
Meanwhile Showco were developing the Vari*Lite in partnership with Genesis but had decided to concentrate on sound only, selling their lighting hire and trucking divisions. This left an opening for Richard to expand into the American touring market with his new systems, and supply via Showco the lighting rigs to hang their new VL1 lamps launched on the Genesis tour in 1982/3. During these non-stop days John ran the European side of the operation and Richard looked after the USA.
When Samuelsons bought the franchise to market Vari*Lites in Europe, they purchased Theatre Projects, TFA and Zenith to support the operation. "To their amazement, major bands persisted on using TTR in the US and Europe," explains John. "After much deliberation Samuelsons decided they would have to buy TTR. When this finally happened, the TTR team joined the other companies, later moving to Greenford where I was one of the major account handlers, interpreting the lighting designs of the TTR acts and Pink Floyd."
At this time, John's brother Martin was working in film lighting and had moved to the USA. Whilst there he discovered a system that made a near perfect mist called 'cracked oil'. It was crude and made a mess, but he immediately purchased one in LA and brought it to London. The device was in essence a half oil drum with filter and nozzles. He suggested that John simply connect a compressor to the device to produce an instant haze.
John immediately saw that the system could be improved, and produce an almost invisible mist that could only be seen when lights were shone through it, picking out colour washes and beams lighting designers dream of, and ideal for the new automated lighting.
John' s newly developed Cirrus system changed the look of concert touring and TV shows. He had in mind a side-line with a few machines, but demand exploded. The first designer to use the system was Mark Brickman on the Brits awards with Mick Fleetwood and Samantha Fox at the Royal Albert Hall. "It was a disastrous show, but it looked great," says John.
On the back of this John formed his own company Cirro Lite with his brother and David Morphy and went into the sale and rental of the Cirro Mist Systems. He continued to work for Samuelsons as a consultant whilst building Cirro Lite into a major sales and rental supplier of specialised lighting and special effects equipment for films, video and the concert industry. Cirro Lite now represent Lightning Strikes, Kino Flo, Photoflex, Light Tools from the USA and Dedo Lights from Germany. "These companies are all state-of-the-art manufacturers creating new products which Cirro Lite are marketing via our rental and sales service," says John.
Look out for the next subject in our Profile series...
© 1999 - 2023 Entertainment Technology Press Limited News Stories