profiles - a light-hearted look at industry personalities
No. 40 in a continuing series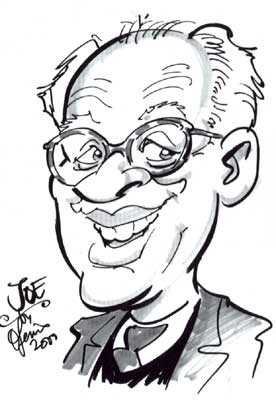 Caricatures by

Joe Aveline
Author
Although born in England just before the war, Joe spent his formative years in Montreal, having arrived there by a converted Lancaster bomber cruising along at 5000ft. (There were plenty of planes looking for a career change in 1946.) English language theatre in a large French-speaking city was a rare activity. Children were also banned from cinemas until they were 16. He remembers only seeing Emlyn Williams reading Dickens and a couple of pantomimes. He did take part in school plays but theatre was not discussed as a potential career. Anyway, he preferred playing ice hockey in the winter and spent the hot summers running around fairly wild in the countryside down by the American border.
After finishing school he came back to England to enjoy the other half of his family and have a tilt at academe - which he failed in comprehensive fashion. His brief sojourn as a student had however introduced him to backstage work on student shows. So when faced with the reality of having to make a crust he badgered the HODs at the Bristol Hippodrome and eventually started as a casual, 45 years ago. He worked on both the stage and electrics crews and remembers standing in awe in the wings watching Margot Fonteyn. A year at the Bristol Old Vic School led to work on the old Theatre Royal stage with its complete set of wooden stage machinery. It began a life-long interest in theatre archaeology.
The Bristol company engineered Joe's transfer to the West End where he added Property Master to his list of credits and as such joined the National Theatre at Chichester in 1964. At the end of the season he went to the Theatre Royal E15 to do a lighting design and ended up becoming production manager as well. He liked the creative buzz of lighting but doesn't consider it's a particularly family-friendly way of earning a living!
Joe was then recalled then to the National Theatre to take over technical management of their touring programme. This took him as far West as Los Angeles and as far East as Belgrade. A shuffle in the corridors of power put him in charge of the new productions as well and the privilege of working directly with Olivier and many other talented directors and designers. The work-load was intense, and although fulfilling in many ways, after a long think Joe decided to change pastures. One of his directors from E15 was taking over the Institute of Contemporary Arts (ICA) and asked him to join him as Gallery Manager. Here was an exciting and steep learning curve, dealing with an entirely different sort of creative personnel. There was also the prospect of squeezing a theatre into a listed building on the Queen's front driveway. After a couple of years he was put in charge of the ICA as a whole and set about reducing a massive burden of debt. Prudent controls reduced this by nearly £750,000 by the time he left. He had seen the age of 40 looming and decided there might still be more things to do.
There were. Large scale project and production management followed until a friend convinced him to use his powers of persuasion as a teacher. Joe had been getting hacked off by being so desk oriented and enjoyed working on productions - which is where he had come in. Best of all he could play cricket on a regular basis for his club - which he still does from time to time - and go away for six weeks in the summer!
In recent years Joe he continued lecturing part time and worked hard in the cause of improving the quality and availability of training for working technicians as Secretary of the Arts & Entertainment Technical Training Initiative (AETTI). He believes the short course BTEC Awards they have devised offer the best and most economic formal training package currently available. He has also done consultancy and is Chair of the ABTT Archaeology Committee. He also cooks a mean curry.
Joe Aveline's book Production Management from Entertainment Technology Press will be launched at the PLASA Show in London in September.
Look out for the next subject in our Profile series...
© 1999 - 2023 Entertainment Technology Press Limited News Stories