profiles - a light-hearted look at industry personalities
No. 65 in a continuing series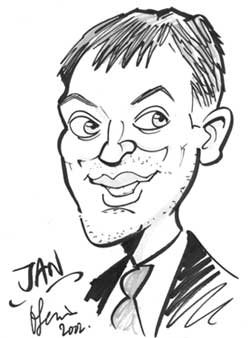 Caricatures by

Jan de Jonge
Founder and Technical Director, IES BV
Jan was an early developer. Born in the small village of Kwadedamme, Holland - which has yet to recognise him with a statue - he had an urgent desire to ski but couldn't find a suitable mountain locally. So he turned his attention to the uphill struggle known as the entertainment business. He began his career in 1969, at the tender age of 10 (that's 2 in binary), when he joined his brother's mobile disco, thus achieving his initial ambitions of travel and meeting girls. Unable to drive the mobile disco, and not being particularly successful demonstrating the 'Funky Walk', Jan decided to leave the celebrity and spotlights of the dance floor for the low pay and ignominy of a technician's life under the mixing console.
Jan's first products included special lighting effects desks and amplifiers. The amplifiers were reclassified as special lighting effects when he switched them on to rapturous applause and plumes of smoke. But with the help of his father, he managed to build amplifiers and speakers which emitted more noise than lighting effects. He has spent the rest of his life developing dimmers that do the opposite.
A life in electronics beckoned, and after years of study, Jan graduated in electronics and industrial design. After all that effort, he decided it was time for a serious break to relax and recuperate until he could legally retire. His father had alternative plans, and promptly set Jan to work redecorating the family home, so Jan put on his painting clothes, went out for some paint, read an advertisement for technical staff to join a small local engineering company called Penko and applied in person, immediately - anything to avoid painting the house. Looking more like a decorator than a, young, smart, switched-on electronics engineer, he was surprised to be given an interview instantly, and even more surprised when he was asked to start immediately. Penko made weighing, dosing and frequency-control electronics for industrial users.
Jan's first job combined his earliest childhood ambitions - travel and girls. With his girlfriend, Josette, and a toolkit, he set out in his boss's car to Paris, but he missed Paris when he drove the car into the side of a Belgian motorway. Luckily it was only Jan's pride and his boss's car that were bent, but this roadside experience of the Belgian emergency services was to give him the confidence to meet, in later years, a variety of German speed cops as well as the British police, ambulance and fire services, when exports of his silent dimmers took him all over Europe.
After three years of wiring up load cells, designing frequency controllers and meetings with worthy industrial engineers wearing socks and sandals, Jan yearned for the glitz and glamour of the entertainment industry. Using techniques from frequency controllers at Penko, Jan developed high-power dimmers under the name IES - International Electronics Service - in his spare time. Although this began as a hobby (with Jan and his now wife, Josette, building products on the kitchen table), it soon grew, and with growth came employees and premises. It was becoming difficult to juggle the demands of Jan's dual business personalities with that of a family, so in 1995 IES and Penko joined together, combining resources and premises of both companies in Veenendaal.
Jan thought this was a good time to relax and recuperate. Windsurfing, Holland's answer to downhill skiing, was a passion for Jan, but IGBT dimming was taking off and large orders from the BBC and National Theatre put paid to any ideas of a quiet existence. Josette suggested that Jan should get a normal job, like decorating, with regular hours and better pay. But still a child at heart, he built a 20kW amplifier with his beloved IGBTs just for fun, and soon afterwards the sine wave dimmer was born.
Throughout all, Josette supported her crazy husband - not only on the domestic front but running IES's sales department too. And Jan is also fortunate to have a technical team and the resources for plenty of 'blue-sky' thinking. Jan lives for an impossible challenge, recently completing a custom sine wave dimming installation in six weeks over the summer vacation.
An accomplished linguist, who recently won the Showtec award for his Matrix sine wave dimmers in Berlin, Jan is happy to make acceptance speeches in Dutch, English, German, French and Spanish. On the subject of silent dimmers, Jan de Jonge and IES are seldom silent.
Look out for the next subject in our Profile series...
© 1999 - 2023 Entertainment Technology Press Limited News Stories