profiles - a light-hearted look at industry personalities
No. 56 in a continuing series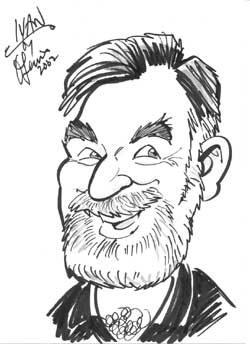 Caricatures by

Ivan Myles
Sales Director, Strand Lighting Ltd
Ivan Myles was born and educated in Bath and left school to earn a living soon after his father passed away. He was fortunate to serve an apprenticeship with The Westinghouse Brake & Signal Company based in Chippenham, and having served his time on the 'tools', went on to qualify as an electrical design engineer specialising in railway signalling. He was responsible for the electrification works on the Warrington, Preston and Carlisle section of the rail network, and some might say that he should have stayed on this same line - and help keep it in regular operation!
Both during and after his school days he maintained a keen interest in theatre lighting, and there were more than a few performances where the Myles West Country accent could be heard at the back of the auditorium, something his colleagues still complain about in the office! Ivan's other passion is choral singing, something that he continues today. He met his future wife Ann whilst lighting a show and they went on to have two children, Christopher, who made his entrance on a first night, and Julia, who recently gave birth to his first granddaughter.
Ivan soon became bored playing trains and felt the call of a life in sales - or was it just the car and expenses? After applying for a technical sales job with Sellotape he was, to his surprise, offered a position. He was the first non-sales person that the company had ever employed and went on to be the first they ever employed twice - but he won't go into that! This was the start of a sales career that has now spanned 32 years. Whilst working for Selotape Ivan met and formed a friendship with Maurice Marshall at the Northcott Theatre in Exeter, who at that time owned and ran M.M. Stage Lighting.
"I think the introduction was based around some film splicing tape that had just been launched by Sellotape," explains Ivan. "Needless to say I got the order, and it was Maurice who some time later introduced me to Strand Lighting at a time when they were looking for a West Country salesman."
Covering the South West for Strand, Ivan was able to continue his love of lighting and sales and get paid for it at the same time! It was not long before his success was noticed by head office and he was offered the role of Field Sales Manager. "This was one of those jobs in Strand where you still did the day job selling but also managed the theatre sales force in your spare time," he says. Many happy hours were spent driving up and down the M4 between Brentford and his home, which some might remember as the Corsham hire department of MM Stage Lighting.
It was not too long before this constant travelling took its toll and Ivan and his family moved closer to the office, just a mere 30 miles away in Sandhurst. His success in sales continued unabated - only to be noticed again in the corridors of power at Brentford. Promotion beckoned, and he was appointed Sales Manager for the UK, a position that had TV within its remit. Now drinking was never Ivan's strong point, unless it was cider of course, and so the TV customers were mainly visited by those who 'could', as it were, entertain. Even so, Ivan still made his presence felt in the TV market.
Since then Ivan has always tried to lead his sales team from the front, not afraid to get stuck in and do the job. His early training and love of lighting still shows through at Strand's Trade Shows, Launches and Sales Tours. On numerous occasions in the past Ivan could be found driving and unloading a 7.5 ton van when touring the "Strand Down Your Way' road show of new products.
His roles over the years within Strand has been varied: European Business Development Manager, Sales Manager Europe & Middle East and recently General Manager of the UK Trading Division. Throughout this time Ivan has maintained a close link with both TV and Theatre, and keeping alive his interest in 'Lighting'.
Look out for the next subject in our Profile series...
© 1999 - 2023 Entertainment Technology Press Limited News Stories