profiles - a light-hearted look at industry personalities
No. 67 in a continuing series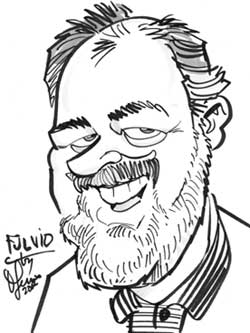 Caricatures by

Fulvio Cotogni
Manager, Southern Region, ETC Europe
Fulvio Cotogni is famous throughout Europe for his prowess in many imaginative and exciting positions. This basso profundo of the entertainment lighting industry generously gave his name and velvety smooth voice not only to sound check terminology ('Full-Vio' meaning 'turn the bloody volume up') but also the oft-used Latin anagram 'In Cognito', shorthand for 'appearing at PLASA each year in another sharp Italian suit in an even more elevated position with yet another lighting company while pretending that he wasn't there'.
Currently ETC Europe's Manager for the Southern Region, Fulvio Cotogni is preparing to celebrate 30 years in the business and looks forward to receiving a stylish pair of Fred Foster socks to set off his latest creations from Gucci. Rome-born Fulvio was just 18 when, after a short stint as a car salesman, he realised it might be an advantage to drive, so he looked for a job with a company car attached. Initially turned down by Ferrari and Lamborghini, he began work with Quartzcolor Ianiro, a world leading specialist in lighting for film and television, which provided a company car when Fulvio was promoted to domestic sales. For over eleven years at Quatzcolor, Fulvio represented companies such as Pani and Rosco and occasionally Quartzcolor.
In 1985, with a wealth of experience in domestic and international sales under his belt and his future wife Assunta on his arm, Fulvio left Quartzcolor and, with Assunta, set up Arri Italia. "This was a real challenge," explains Fulvio. "Quartzcolor and De Sisti were already dominating the Italian market, while Arri was completely new to the lighting business."
Nevertheless, with real determination, Arri Italia enjoyed significant success, supplying a wide selection of lighting products, including some of the first controls made by ETC and sold under the Arri brand.
Within just seven years and four new suits, Fulvio had positioned Arri Italia as the first company in the film market to simultaneously achieve a major presence throughout the entertainment lighting market. But it was time for Fulvio to move on again - back to Quartzcolor Ianiro, which in the meantime had been acquired by Strand. His notoriously wicked sense of humour (like his favourite Italian wine - dry, acerbic, light hearted) and exceptional command of Anglo Saxon made him well prepared for his new masters. Initialling accepting the newly-created position of General Manager for the Italian division, Fulvio spent the next four years in three different countries and four different jobs! Defining a management technique subsequently dubbed 'In Cotogni perpetuo', Fulvio and his family lived abroad for two years, one in Germany and one in England. Although they appreciated that English food and German fashions could teach the restaurants and catwalks of Rome and Milan a few things, Fulvio and Assunta decided it was time for a more settled life in one place with their son, even though they would have to put up with the local excellent Italian cuisine, fantastic Italian wine and alluring designer-labels of their home land.
The move back to Italy gave Fulvio the opportunity to work with his long-time friend Mario De Sisti. "Mario was responsible for my introduction to the industry all those years ago and it was a real pleasure to work with him," he says. Most of his time at De Sisti was spent promoting ETC products to the Italian market and with this experience it was a natural step for him to accept his present post as Manager of the Southern Region for ETC Europe.
Today most of Fulvio's time is divided between the development of the Southern European and Middle Eastern market, and the management of the new ETC Italy office in Rome. But despite the managerial power that comes with his position Fulvio says: "I still get immense pleasure from negotiating the sale of just ten Source Fours with a local customer. The simple action of closing a small deal means I keep my feet on the ground and in touch with what's going on with the market, with the customers and the lighting industry. I started selling equipment to the industry when I was just 18 - and it's still the most exciting part of my job!"
Look out for the next subject in our Profile series...
© 1999 - 2023 Entertainment Technology Press Limited News Stories