profiles - a light-hearted look at industry personalities
No. 10 in a continuing series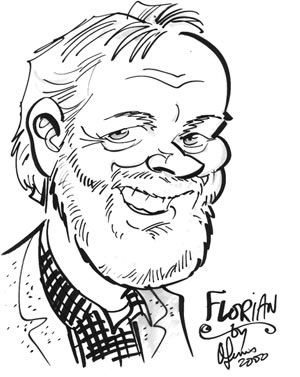 Caricatures by

Florian von Hofen
Chief Executive, VPLT
Florian von Hofen, Chief Executive of VPLT, the Professional Lighting and Sound Association of Germany, started in the entertainment business as an assistant director shooting commercials for British and American companies in Europe. "Anywhere the scenery was beautiful," he says.
With his savings, he became a partner in a firm that specialised in equipping discotheques. "That's where I fell in love with fog," says Florian. In due course, he founded the fog machine company Smoke Factory in 1990, and promptly joined the Verband Deutscher Discotheken-Ausstatter (Association of German Discotheque Suppliers/Contractors).
He spoke out his first meeting and was promptly co-opted onto the board. Also at that meeting - at Florian's suggestion - the association renamed itself the Verband fur Professionelle Licht - und Tontechnik (VPLT) so it could represent a wider spectrum of the entertainment technology industry.
Florian has now been involved with VPLT's administration for more than ten years - since 1995 as its Chief Executive - and during this time the association has grown from 30 to 720 members. It's noted for its successful effort in having Veranstaltungstechnik (event technology) formally recognised as a career field by governmental bodies. This is important in Germany, where trades that require specialised skills are highly regulated. It has been accomplished by a double-fronted programme to educate business people and governmental officials to the need for specialists in this field and to educate workers to be those specialists.
During Florian's tenure as Chief Executive, VPLT has had a three-year curriculum for event technology approved by the Federal Ministry of Commerce and the Federal Ministry of Education, Science, Research, and Technology, and now runs a training school, the Deutsche Event Akademie. VPLT also works to represent its members' interests with the standards-drafting organisations DIN (Deutsches Institut fur Normung), VDE (Verband der Elektrotechnik, Elektronik & Informationstechnik), and ESTA's Technical Standards Program. In the latter, Florian acts as VPLT's principal representative on the Technical Standards Committee.
VPLT's Chief Executive position is a full-time job, but Florian still finds time for fog! He is no longer involved in the daily operations of Smoke Factory, but likes to work on at least one fog installation project a year. He also enjoys collecting wine - "for drinking, not to look at" - and tries to keep a stock of at least 200 bottles in his cellar.
Look out for the next subject in our Profile series...
© 1999 - 2023 Entertainment Technology Press Limited News Stories