profiles - a light-hearted look at industry personalities
No. 76 in a continuing series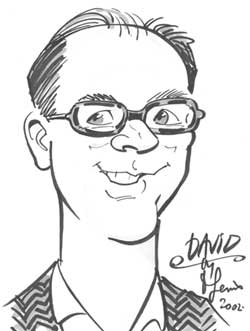 Caricatures by

David Barbour
Editor-in-Chief, Lighting & Sound America
David had a relatively normal youth untainted by the world of entertainment. When he was 16, however, he saw a national tour of Gypsy, starring Angela Lansbury, and his life was changed. Previously a film fan, he now became obsessed with the theatre. During college (when not working as an auto assembler for Ford Motor Company) and for a few years after graduation, he tried every form of theatrical activity-running props, pulling curtains, directing, reading scripts-even, God help us, acting. (We will draw a veil over his appearances in the dream ballets of several classic musicals. You'll have to wait for his memoirs.)
After a few years in and around show business, he obtained a master's degree (in something called Performance Studies) from New York University, then began writing about the New York theatre scene for various publications, most of which are no longer with us. He eventually became managing editor of one such magazine, TheaterWeek, completing a staff that consisted of one other editor and half an art director. Together, the two-and-a-half of them turned out a magazine every seven days. Although he spent nearly 15 months in a state bordering on nervous collapse, he admits that he learned a great deal about putting a magazine together and has even been known to feel nostalgic for the days of a weekly deadline.
After leaving TheaterWeek, David worked as a freelance writer, then signed on as managing editor of Theatre Crafts, under the leadership of the legendary Pat MacKay. He quickly immersed himself in the world of scenery, lighting, costumes, and sound. It didn't escape his notice that Theatre Crafts had a sibling publication, Lighting Dimensions, and a trade show, Lighting Dimensions International. Unbelievably, he had never attended a trade show. That was soon remedied, and he found himself viewing light shows, walking through clouds of fog, and running from exploding confetti machines. Surprisingly, he thought it was all great fun.
Urged on by MacKay, David spearheaded a reworking of Theatre Crafts into a more broadly based publication, TCI, which covered all forms of entertainment. He also caused the magazine to grow to a tabloid size. In so doing, he earned the outrage of librarians across America, who called to complain that they couldn't bind together a full year's worth of magazines, because they came in two sizes. He was shocked at the depth of their anger and still worries, late at night, that, someday, somewhere, a librarian will come to exact revenge.
Librarians aside, the magazine was well-received and David eventually became editor of both Theatre Crafts and Lighting Dimensions. When the magazines were purchased by what was then called Intertec Publishing, he was made editorial director of both publications. By this time, he had learned about trade shows in Singapore, Shanghai, London, and, best of all, Rimini, and was busy jetting off to them all. He claims, with a straight face, that it was new technology, and not, say, the excellence of the pasta in Rimini, that was his primary motivation for attending all these shows. Some claim to believe him.
Eventually, Intertec became Primedia, and David again became editor of Lighting Dimensions, even though he retained the title of editorial director. By now, he was deeply fascinated with all facets of entertainment technology; he was also attending approximately 125 theatre productions a year. However, he was looking for a new challenge. The opportunity came this year when he, publisher Jackie Tien, technical editor Michael S. Eddy, and advertising sales director Adrienne Gurman left Primedia to start Lighting&Sound America, a new magazine published in association with PLASA. He's looking forward to delving deeper into new technology and exploring the many trends that are affecting the industry.
In what he laughingly calls his free time, David is writing reviews of original cast albums for a book, The Sound of Musicals, to be published in the fall of 2004. Thanks to his job, he has met Angela Lansbury and informed her of her responsibility for the course of his life. She didn't seem to mind at all..
Look out for the next subject in our Profile series...
© 1999 - 2023 Entertainment Technology Press Limited News Stories