Aktuelle News & Schlagzeilen
Martin Audio WPL's season-long deployment in Russian eco park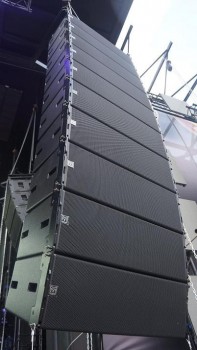 A&T Trade and Music Trade have deployed Martin Audio's premier WPL PA on the main stage of the Zolotoy Gorod eco park, one of the largest country parks in Russia, located near the city of Tula.
Music Trade, A&T Trade's Tula-based partner, were requested to design a sound system that would serve artists all summer long. The main stage of the Zolotoy Gorod presents a multi-genre line-up featuring artists for pop, folk, orchestra, rock, electronic and theatrical performances.
The main PA comprises 10 Martin Audio WPL elements flown on each PA wing, with eight further WPC each side as outfills. A cardioid array of 12 SXH218 subwoofers stretched across the entire width of the stage, provide low frequency support.
© 1999 - 2020 Entertainment Technology Press Limited News Stories