Aktuelle News & Schlagzeilen
Martijn Steman and Chauvet create looks for Jan Smit tour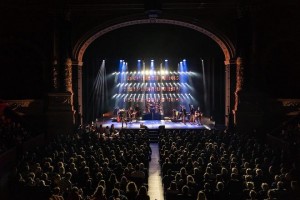 For Dutch singer and TV presenter Jan Smit's current theatre tour of the Benelux, which is set to run until the end of the year, Smit's long-term creative collaborator Martijn Steman was once again tasked with providing the tour visuals. Triple Showtechniek supplied Steman and his team with 30 Chauvet Professional Rogue R1 FX-B fixtures.
Positioned in three horizontal rows running the width of the entire stage, the R1 FX-Bs play a pivotal role in creating color and energy in between the video content played from large LED screens. "The R1 FX-B allows me to punctuate the video wall with some effects, which has the effect of making the back wall look larger while making full use of the space on stage," comments Steman.
One of the key effects in Steman's arsenal of looks is a so-called curtain of light, which is achieved by lining up the beams of the R1 FX-B to create a luminous barrier at the back of the stage. "I'm also able to create a light curtain effect through the band by playing with the individual beams," he says.
© 1999 - 2020 Entertainment Technology Press Limited News Stories