Aktuelle News & Schlagzeilen
Circuito Naranja invests in Robe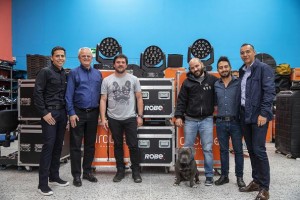 Arbol Naranja (Orange Tree) is an event organizer and creative agency that more recently also became an equipment rental company called Circuito Naranja, initially to service their own shows and clients, then expanding into a proactive new division of the business. Their work is primarily music orientated.
The rental side of the business is managed by Luis Burgos, also one of the owners and founders of Arbol Naranja, which kicked off in 2006. Their two main areas of business are complete event organization and equipment rental, and there are currently 70 full time staff working across two nearby sites in the Chapinero area of Bogota, servicing around 200 events a year of different sizes and complexities.
They have recently invested in 24 x Robe Spiiders delivered by Colombian distributor AVCom Colombia, also based in Bogota. These are their first Robe purchases and their first of a fully professional moving light product.
The first shows for the new Spiiders included "El Día De Rock" (A Day of Rock), staged at the North Autopista Events Center in Bogota, and "I Love Bogota", a reggaeton and urban music event staged at the Green Forest venue in Chia, north of Bogota.
Pictured (left to right): Guillermo Traverso (Robe Regional Sales Manager for Latin America), Harry von den Stemmen (Robe Sales Director), Riccardo Castellenos, Luis Burgos (co-owner of Arbol Naranja, manager of rental company Circuito Naranja), Juan Camilo Triana (technical Sales AV Com Colombia) and Camilo Aranguren (MD AV Com Colombia).
© 1999 - 2019 Entertainment Technology Press Limited News Stories