Aktuelle News & Schlagzeilen
TIG holds Crestron Elite Partner event in Dubai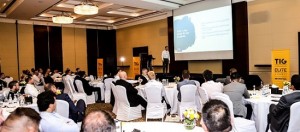 Technological Innovations Group (TIG) has welcomed over 65 AV industry representatives from the Nordics, East Europe, Russia, Middle East and South Africa to The Crestron Elite Partners Summit in Dubai.
With a focus on Crestron, the AV integrator partners attending discovered the latest details on the vision of TIG. Leading the conference were TIG's CEO Robin van Meeuwen, alongside Dirk Hendrickx, TIG's Crestron Vice President of Sales, and Crestron's Stijn Ooms, Director of Technology. They provided key updates from the company, projections on industry trends, and details of products that are set to launch in 2020.
Attendees were presented with information about TIG's sales strategy and ongoing investments for growth and Crestron's strategic product roadmap. Special guest at the event was Gaurab Majumdar, Regional Director Avixa, India and GCC, who delivered a presentation on Avixa' s perspective on AV Trends.
© 1999 - 2020 Entertainment Technology Press Limited News Stories