Aktuelle News & Schlagzeilen
EM Acoustics launches new S Series subwoofer range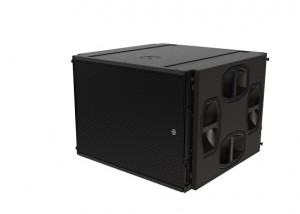 EM Acoustics has launched the new S Series which brings all of the company's subwoofers into a single class for ease of identification. The new range comprises a total of seven subwoofers designed to augment EM Acoustics' full range loudspeakers in a variety of fixed and portable sound reinforcement applications.
The new S-48 is a low profile, compact VLF subwoofer whose minimal dimensions allow for concealment in confined spaces such as galleries, bars, cafés, museums and smaller theatres. Four high power 8-inch neodymium LF drive units deliver useable response down to 35 Hz without the need for EQ.
At the top end of the range is the ST-215 compact flyable touring subwoofer, which is proportioned to fly with EM Acoustics' newly launched Halo-B medium format line array system. The larger ST-218 high power dual 18-inch flyable sub is designed to be matched with the large format Halo-A system.
All the subwoofers in class are prefixed with S- followed by a number (e.g. S-12, S-15, S-18) giving a clear indication of size and composition, and thus application. All S Series subwoofers come complete with a range of rigging points and an impact-resistant paint finish as standard plus custom colour and weather-resistant options.
© 1999 - 2020 Entertainment Technology Press Limited News Stories