Aktuelle News & Schlagzeilen
Elation offers new Seven Batten series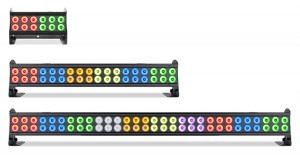 Building on the SixBar series of color-changing LED battens, Elation Professional now offers the Seven Batten, a new line of linear lighting effects using 7-color multi-chip LED technology and housing individual 25 W 7-in-1 RGBAW + Lime + UV LEDs.
The optical design has been improved to produce better color mixing and smoothness of field. The Seven Batten series is capable of projections of uniform color onto any surface whether lining the downstage edge or flown in a truss.
Available in 1- (0.3 m), 4- (1.2 m) and 6-foot (1.8 m) lengths, Seven Batten fixtures produce nearly 80% more lumens versus comparably sized SixBar series fixtures. An updated aluminum case design provides improved thermal control and heat management.
Seven Batten 14 houses 12 total LEDs, the output is 3,989 LUX @ 9.8' (3 m) with maximum power consumption of 204 W. Seven Batten 42 houses 36 total LEDs, the output is 9,049 LUX @ 9.8' (3 m) with maximum power consumption of 612 W. Seven Batten 72 houses 60 total LEDs, the output is 11,700 LUX @ 9.8' (3 m) with maximum power consumption of 1000 W.
All fixtures in the SEVEN Batten series are fully dimmable down to 0% and a selection of variable dimming curves is provided for faster programming. A selection of strobe effect options (1-18 fps) add to their versatility. All Seven Batten fixtures operate flicker free for use in TV and other broadcast applications.
Each Seven Batten fixture features multi-channel DMX control, 3 and 5-pin DMX in/out, PowerCon in/out and RJ45 EtherCon in/out connections. All Seven Batten fixtures are ArtNet, KlingNet and RDM protocol capable and come with multiple-unit power linking.
A 4-button control panel with LCD menu display with fixture menus and messages is included for navigation through DMX and manual settings. An integrated rigging bracket allows for quick hanging and a multi-voltage universal auto-switching power supply covers worldwide voltages and frequencies.
© 1999 - 2019 Entertainment Technology Press Limited News Stories