Aktuelle News & Schlagzeilen
New Neutrik Dante interface available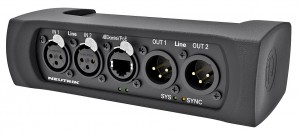 The new Neutrik intelligent NA2-IO-DLine Dante I/O interface is available from official Neutrik distributors and resellers, worldwide. This new end-of-network device provides a solution for integrating analogue signal devices within Dante based AoIP networks. With two line level analogue inputs and two line level outputs, it can simultaneously integrate two analogue audio channels within a Dante network and output a Dante stream as two analogue channels.
Simultaneously converting two analogue line signals to a Dante stream and a Dante stream to two analogue line signals enables the NA2-IO-DLine to feed analogue signals to a Dante network, while receiving a mix from another Dante source and feeding it to non-Dante enabled amplifiers, self-powered speaker systems, signal processors, mixing consoles, etc.
The NA2-IO-DLine is optimized for use in extreme environments and applications. The unit is equipped with lockable EtherCon connections for audio and network I/O, and comes 'wrapped' in a protective rubber casing for stand-alone deployment. This can be removed, to allow it be used with optional mounting brackets or a rack panel; enabling it to be mounted below tables, in floor boxes, or in equipment racks for fixed installation applications.
The unit requires a Power over Ethernet switch or a PoE injector (802.3 af/at; class 1). It is also AES67 compliant, making it more extensively interoperable within other AES67 compliant AoIP network technologies, like Ravenna, Q-Lan and Livewire.
© 1999 - 2019 Entertainment Technology Press Limited News Stories