Aktuelle News & Schlagzeilen
Matrox updates video wall portfolio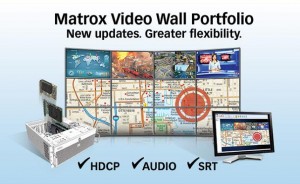 Matrox Graphics Inc. announces a number of updates to its video wall portfolio that provide OEMs and system integrators with greater flexibility for video wall and multiviewer design. The Matrox Mura IPX Series capture cards support playback of multiple 4K, high-bandwidth digital content protection (HDCP)-encrypted sources across Mura IPX-powered video walls.
Mura IPX Series video wall cards and IP-based multiviewers now also support audio. The latest updates additionally feature expanded streaming protocol support for RTP, MPEG2.TS, and the open-source Secure Reliable Transport (SRT) protocol.
Mura IPX video wall cards can capture, display, and scale HDCP content from multiple 4K/UHD baseband video sources - such as Blu-ray Disc players, set-up boxes, and video game consoles - across Mura IPX-driven video walls.
Matrox video wall graphics cards and IP-based multiviewers now feature audio support, where users can select any audio channel from either an encoded or baseband source. In addition to the already-supported RTSP streaming protocol, Mura IPX cards now support SRT, RTP, and MPEG2.TS, allowing them to fit into a wider range of IP networks and video wall installations.
© 1999 - 2019 Entertainment Technology Press Limited News Stories