Aktuelle News & Schlagzeilen
Cadac launches CDC Five mixing console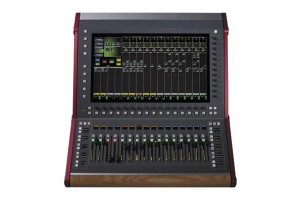 Cadac is celebrating its 50th anniversary with two new launches in its CDC touch-screen digital mixing console series: the top of the range CDC Seven-S and the CDC Five, a compact mix solution for small-to-medium sized production companies, freelance mix engineers and all manner of fixed sound installations.
With the launch of the CDC Five comes Version 5 CDC Console Software which features an improved Graphical User Interface with a completely redesigned console control screen. The GUI has evolved for the CDC Five, to include a swipe down feature on its sole 23.5" touch screen which brings up the control screen functions normally found on the separate 6.5" control screen on its larger siblings. Version 5 CDC Console Software also boasts a number of new features - including Cue Ripple and Cue Preview - and performance enhancements that feature across the entire CDC range.
The CDC Five features a single 23.5" touchscreen and 16 faders, with dual banks of user assignable buttons (40 in total). The touchscreen displays the intuitive CDC swipe-able user interface. The rear panel boasts 16 analogue inputs, to compliment eight analogue outputs and eight digital inputs and outputs, as well as the integrated 64 x 64 Waves card. The CDC Five also includes dual Megacomms ports, enabling additional Megacomms processing/interfaces to be connected, forming an extended audio and mixing console network.
The CDC Five runs 96 k/24-bit audio and is capable providing up to 48 inputs and 24 assignable busses, plus LCR and monitors in FoH mode; or 30 assignable busses when operating in Monitor Mode. Designed as a 'one box solution', the CDC five has one internal PSU with the option of adding a second redundant external supply (the current PSU 4800).
© 1999 - 2019 Entertainment Technology Press Limited News Stories