Aktuelle News & Schlagzeilen
HSL celebrates 30th birthday with Open Days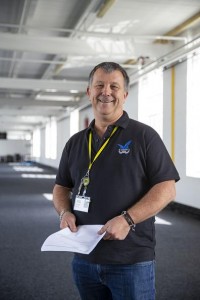 UK lighting and visuals rental specialist HSL celebrated its 30th birthday with two special Open Days, staged at HSL's HQ in Blackburn on 3rd and 4th October 2018. This included a Supplier Showcase, an expo-style environment located in HSL's Gallery Space - complete with panoramic views across the Lancashire countryside just outside of Blackburn - where HSL's industry partners demonstrated and highlighted their latest technologies and innovations.
Brands like Robe, Philips, Martin, Claypaky, Chauvet, High End Systems, ETC, Avolites, MA Lighting and many more participated in the event, featuring 32 x stands and three bars. The Open Days also included guided tours of the 165,000 square feet HSL premises (including its training facilities, warehouse and prep areas) as well as presentations by different companies within the HSL Group, including PSI, SPR and GLS.
Photo: HSL's MD Simon Stuart.
© 1999 - 2020 Entertainment Technology Press Limited News Stories