Aktuelle News & Schlagzeilen
Singapore Chingay Parade with Robe fixtures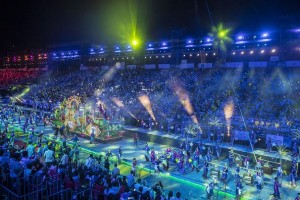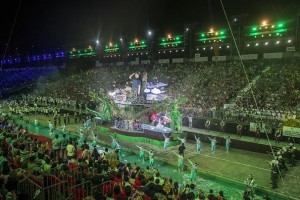 Over 400 Robe moving lights were used for the 45th Singapore Chingay Parade to celebrate Chinese New Year - The Year of the Rooster. Javier Tan designed the lighting for this public event, featuring a cast of 8000, directed by Fan Dong Kai and staged at the F1 Pit Building in the city centre.
The show was organized by the People's Association (PA). It celebrated the diversity and multi-cultural nature of the nation's population and was watched live by President Dr. Tony Tan, Prime Minister Lee Hsien Loong, plus assorted political, dignitaries and VIPs together with approximately 200,000 members of the public over two nights. It was also recorded for broadcast.
To help wash the parade route and the six massive grandstands which accommodated 30,000 spectators, Javier Tan specified 216 x BMFL Blades, 56 x BMFL WashBeams and 112 x Robe ColorStrobes. The ColorStrobes were used as wash lights to cover the show and audience areas. Additional wash lighting was provided by 56 x Robe LEDWash 600s, with all the event's lighting and audio kit supplied by Singapore rental company, CSP Productions Pte Ltd.
The lights were rigged on a series of gantries and towers erected along the backs of the seating grandstands on both sides, arranged in layers. The BMFL Blades were on the middle levels with the WashBeams on the tops of the towers. The BMFL Blades created some aerial and beam effects. They textured the floor, a raised runway along one side and a waterway running the full 360 metres down the other.
The ColorStrobes were positioned on the upper gantry rail, where they could immerse the entire crowd and performance area with colours and effects. On Tan's recommendation, CSP Productions purchased another 80 ColorStrobes which joined the 40 already in their inventory, especially for this project.
Four lighting consoles were used to run the show lighting, which also included some other moving and LED lights plus 40 fog machines. Tan worked with his regular team of programmers, Clement Cheong and Joyce Goh. Chingay 2017 Singapore's technical director was Yong Fa. CSP's lighting crew chief on site was Colin Foo, supported by technical managers Alan Lee and Pete Win Tin.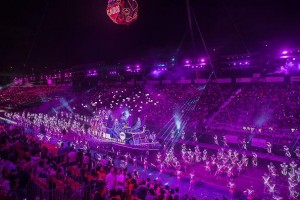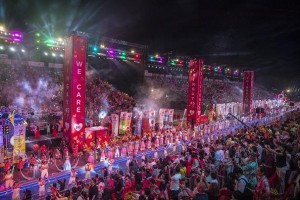 © 1999 - 2020 Entertainment Technology Press Limited News Stories